Hello,
Firstly, Thank you for clicking on my website.
I understand it's a long process trying to find a counsellor that suits you, one you feel drawn to & one that you feel you can trust and be honest enough to share your feelings with.
It's time  to start taking care of our psychological well being like we do our physical well being.
We all may well go to the doctors with an illness, a broken/sore limb etc  so I wonder what stops us from seeking help for a broken / sore mind? 
I provide a sounding board for you , giving you a safe , confidential space to talk about things that trouble you & together find solutions to help you manage your life .
Its not about giving advice , but providing a non judgemental , empathic, and accessible means to allow yourself to find a way forward. You are the expert of yourself , sometimes we just need support in allowing us to find the courage to accept this .
I am a very down to earth empathic person and will treat you with complete individuality . Therefore , I tailor your sessions to your personal needs .
CHILDREN , TEENS
INDIVIDUAL ADULTS
COUPLES
FREE INITIAL CONSULTATION 
---
CALL       07801 229648
EMAIL.   therapywithdenise@gmail.com
---
AN INVITATION TO A FREE HALF HOUR INTRODUCTORY…..
That 1st step is the hardest …..
Therefore , I would like to invite you in for a relaxed introductory FREE session , this allows you to come along  , talk briefly about what's troubling you , ask any questions about counselling, get a feel of how I work & see if I am the right counsellor for you . The relationship between counsellor & client is very important for therapy to work .
 There is no obligation to take things further, if you feel that I don't match your sense of what you need , I would be more than happy to refer you on to another therapist or another service.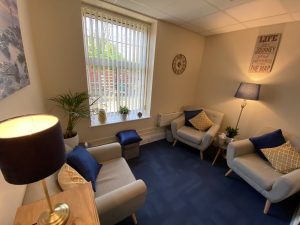 BASED IN CHURCHILL SQUARE KINGS HILL ME19 4YU
Tel: 07801 229648
Home / School / Video / Text & Telephone Counselling also available

"The Chrysalis Thought it was The End of The World……..Until it Became a Butterfly"